Commander Keen: The Earth Explodes
The Story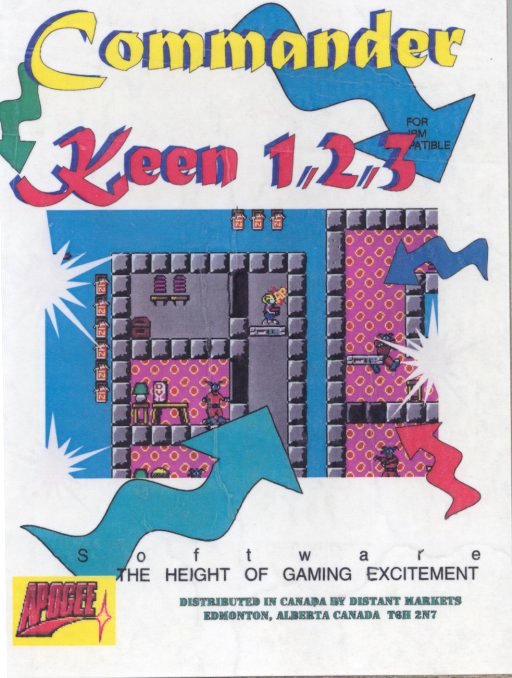 Billy Blaze, eight year-old genius, working diligently in his backyard clubhouse has created an interstellar starship from old soup cans, plastic cement and rubber tubing. While his folks are out on the town and the babysitter has fallen asleep, Billy travels into his backyard workshop, dons his brother's football helmet, and transforms into.
COMMANDER KEEN - Defender of Earth!
In his ship, the Bean-with-Bacon Megarocket, Keen dispenses galactic justice with an Iron Hand!
His parents think he's asleep, but there's no time for napping - a Vorticon mothership is poised above Earth, preparing to destroy every major city with their deadly Tantalus ray! Keen must sneak aboard the ship and stop each Tantalus team from their terrible task. If he fails, the Earth Explodes! Of course, this means he won't have to get home in time for school... The Earth or no school. Hmm...
After much deliberation, Keen decides to save the Earth anyway. Don't miss an action-packed second of this exiting episode in the Commander Keen trilogy!

Hints and Tips
First off, check out the Invasion of the Vorticons Hint Sheet
General Hints
Some places are only reachable by the pogo stick. It is wise to practice your pogo skills. "The Impossible Pogo Trick" is a trick that makes the game easier. How it works: walk or run in a direction, then press the pogo key, release it QUICKLY and press jump. You will pogo up and over at an angle that's not possible using any other method. In Episodes Two and Three, this technique is very valuable.
All good Commanders know when to save their progress. On the World Map, press F5, and select a save position from 1-9. You can continue your game from the title screen, just select Continue Game, and press the number of your previously saved game.
Conserve your ammo! If you can get past an enemy without firing, do it! You'll find this technique especially helpful in Episode Three, where you'll more than likely run out of weapon power if shoot everything that moves. Another useful technique is getting your enemies in between you and either a Tank Robot, a Guard Robot, or a Vorticon Women. More often than not, they'll get fried in the crossfire.
You can use your pogo stick to avoid going into the Exit door. Before you start leaving, activate your pogo, and you won't get sucked in. Use this to get goodies behind the exit.
Read the Signs, they give you invaluable hints (and a whole bunch of information you don't need).
Use your common sense! If it looks sharp, pokey, or otherwise harmful to you, it probably is!
Specific Hints:
It's undocumented, but important. To pull switches or push buttons, press the pogo button when you are near.
Tantalus Rays are destroyed by using the pogo to hop up, and shooting the purple sparking cell in the glass bubble. WARNING: Don't stand to close to the switch when activating your pogo, you could pull it, and that ends the game (in a bad way)!
The little red robots, Scrubs, can be jumped on for a ride up the wall. You'll find this technique VERY useful.
The Guard Robots are deadly adversaries: Get an enemy between you and him.
You can stand on top of Vorta-Cola cans to get to higher places, and taking them may change the way the Scrubs walk.
The wise Vorticon will not jump in the dark. In fact, even unwise Vorticons will not jump in darkness.
Using "The Impossible Pogo Trick" jump on one of the Tantalus levels allows you to get to the top, avoiding all the nasty things below.
Keen can leave Rome's Tantalus Ray still active if he goes as far right as possible at the beginning, and hopping up the little hole.
On the world map, the SGA labels Rome and Moscow are in the wrong places! In addition, on the far right side of the Paris Tantalus level, FUCL is spelt with the small colored platforms (though word is that in some versions the 'L' is a 'K').
The Ending
After disabling the weaponry of the Vorticon Mothership, Billy heads for Earth. Even great space-heroes need a nap after defeating a vicious horde of violence-bent aliens!
The Vorticon ship limps back to Vorticon VI to tell of their defeat at the hands of Commander Keen. The Grand Intellect will not be pleased.
Wake up, Billy. It snowed last night! There's no school!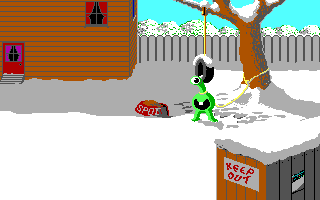 Wonderful, Mother. That will give me time to rid the Galaxy of the Vorticon menace and discover the secret of the mysterious Grand Intellect!
Ok, hun, but you'd better a nourishing vitamin fortified bowl of Sugar Stoopies first.


Ok Mom.
To be continued.
Download
Invasion of the Vorticons Hint Sheet (high resolution)
This episode isn't shareware, so you'll have to Buy It!
Screenshots