Commander Keen: Keen Must Die!
The Story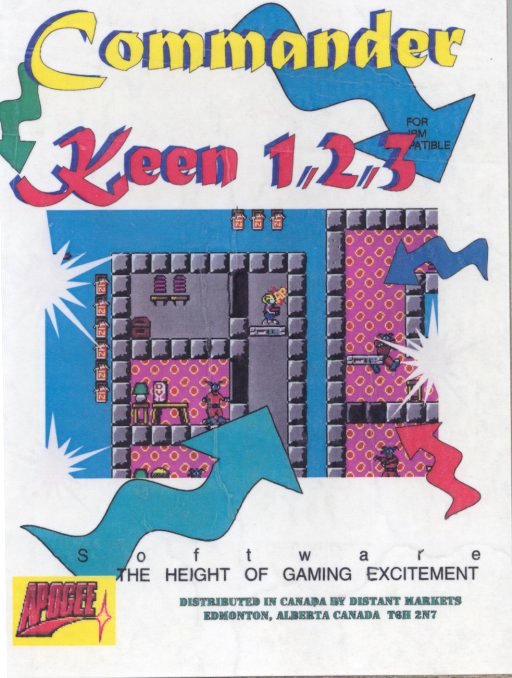 Billy Blaze, eight year-old genius, working diligently in his backyard clubhouse has created an interstellar starship from old soup cans, plastic cement and rubber tubing. While his folks are out on the town and the babysitter has fallen asleep, Billy travels into his backyard workshop, dons his brother's football helmet, and transforms into.
COMMANDER KEEN - Defender of Earth!
In his ship, the Bean-with-Bacon Megarocket, Keen dispenses galactic justice with an Iron Hand!
Keen blasts through a hyperspace gate and arrives on Vorticon VI, landing on the island of Vortiville. Here he faces mind numbing horrors of suburban life. Then he will travel to New Vorticon, where life is a dark, dangerous enterprise. He will also have to face the violent forces massed in the Vorticon military installation. After this, he will face the impossible maze of the Caves of Oblivion. If he passes this barrier, he will finally reach the castle of the Grand Intellect, where all his beliefs and fears come together in a titanic, shocking finale! Don't miss the incredible shattering conclusion to the Commander Keen trilogy!

Hints and Tips
First off, check out the Invasion of the Vorticons Hint Sheet
General Hints
Some places are only reachable by the pogo stick. It is wise to practice your pogo skills. "The Impossible Pogo Trick" is a trick that makes the game easier. How it works: walk or run in a direction, then press the pogo key, release it QUICKLY and press jump. You will pogo up and over at an angle that's not possible using any other method. In Episodes Two and Three, this technique is very valuable.
All good Commanders know when to save their progress. On the World Map, press F5, and select a save position from 1-9. You can continue your game from the title screen, just select Continue Game, and press the number of your previously saved game.
Conserve your ammo! If you can get past an enemy without firing, do it! You'll find this technique especially helpful in Episode Three, where you'll more than likely run out of weapon power if shoot everything that moves. Another useful technique is getting your enemies in between you and either a Tank Robot, a Guard Robot, or a Vorticon Women. More often than not, they'll get fried in the crossfire.
You can use your pogo stick to avoid going into the Exit door. Before you start leaving, activate your pogo, and you won't get sucked in. Use this to get goodies behind the exit.
Read the Signs, they give you invaluable hints (and a whole bunch of information you don't need).
Use your common sense! If it looks sharp, pokey, or otherwise harmful to you, it probably is!
Specific Hints:
You need only to complete three levels to finish the game, but what's the fun in that?
On the Volcano level (the Caves of Oblivion), follow the directions on the sign.
When Meeps sing, the sound kills, and can travel through anything. Even solid walls!
You can usually run under the VortiNinjas when they jump high into the air.
Line up a foe with a Sentry Gun, or a Vorticon Woman. They'll die in a jiffy.
Remember, some falls are necessary, and some things are hidden in the heavens (think big clouds).
Jacks are almost always deadly, don't enter an area with them unless you have an Ankh, speaking of which...
All Ankhs can be obtained.
It's possible to fly in the air without using a cheat. Just press jump and then fire at almost the same time. You'll waste a few bullets, but it's good for getting to tough places when you don't want to cheat.
If you look at the Blue Key in the Status Screen, it has a sky blue aura around it. Weird!
The Ending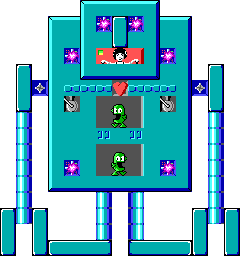 No. It can't be! Mortimer McMire!!!
Mortimer has been a thorn in your side for as long as you can remember. Your IQ test score was 314-Mortimer's was 315. He always held that over you, never letting you forget for one day.
All the practical jokes, the mental cruelty, the swirlies-each memory makes your teeth grit harder. And now he's out to destroy Earth! You have had enough!

"Alright Mortimer, what's the problem? Why destroy Earth?"
"You and all those mental wimps deserve to die! I'm the smartest person in the galaxy. Aren't I Mister THREE FOURTEEN! Ah, ha, ha!"

"I'll get you for that, Mortimer!"
"Come and try! You'll never get past my hideous Mangling Machine! Prepare to die, Commander Clown!"
<Commander Keen then promptly destroys the Mangling Machine>
With Mortimer McMire out of the picture, and his brain-wave belts no longer controlling them, the Vorticons are free from their mental enslavement.
"Commander Keen, in honor of your meritorious service in freeing us from the Grand Intellect's mental chains, I and the other Vorticons you haven't slaughtered want to award you The Big V, our highest honor."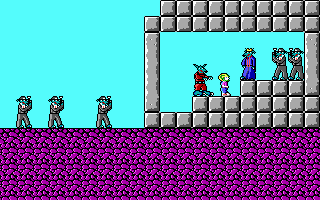 "Thank You!"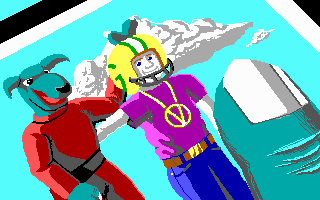 The End. For now!
Download
Invasion of the Vorticons Hint Sheet (high resolution)
This episode isn't shareware, so you'll have to Buy It!
Screenshots