Commander Keen: Aliens ate my Babysitter!
The Story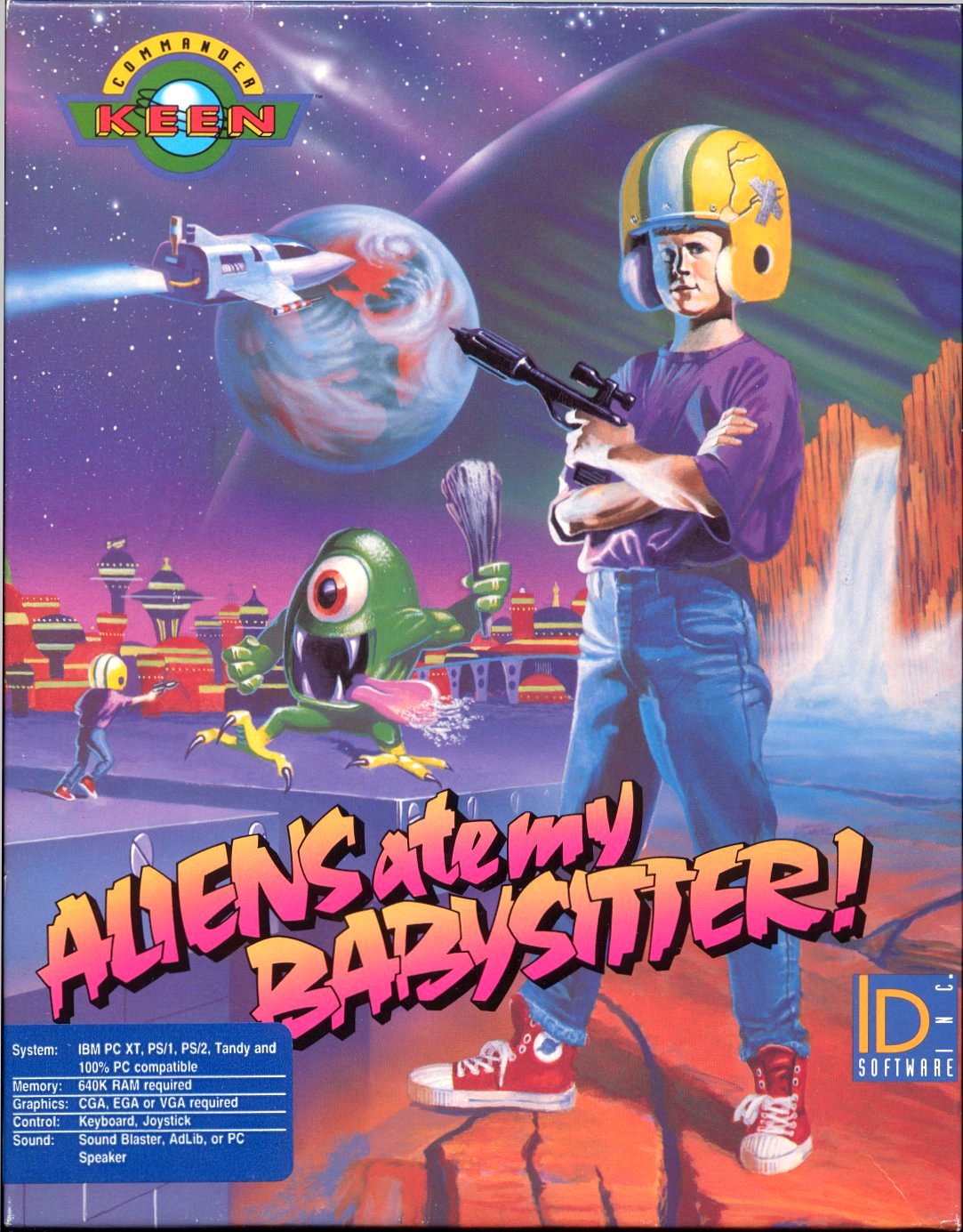 In this episode, Billy is out in his clubhouse, busily working on his handy new CompuWrist wrist computer. He hears Molly, his babysitter, calling him to supper but he keeps on working. He hears a strange noise in the backyard and decides to investigate. On a patch of scorched grass he finds a note:
Keen-
Thanks for dinner.
-The Bloogs of Fribbulus Xax.
P.S. Next time get one with more meat, please.
He puzzles over this for a moment, then notices the babysitter has stopped calling. Suddenly he realizes that aliens are having her over for supper-and when they say "for supper" they mean "FOR SUPPER"! If he doesn't save her, his parents will be furious. They'll never believe that "Aliens ate my Babysitter!"

"This is a job for Commander Keen!" he declares. Once again, he dons his brother's football helmet, hops into the trusty Bean-with-Bacon Megarocket, and starts the launch sequence for Fribbulus Xax. He's got to save Molly from becoming a snack for creatures from another planet!
It's great arcade action and hilarious fun in the latest episode in the Commander Keen saga!
Hints and Tips
First off, check out the Aliens ate my Babysitter! Manual
There's more to do at The Bean-with-Bacon Megarocket than it seems (notice that you can't exit the level on the right side).
There are three very important items that Commander Keen needs to get to complete his quest. They are located in The First Dome of Darkness, Bloogfoods, Inc., and Bloogton Tower.
The way to the Blooglab Space Station is through the Bloog Control Center (and I mean THROUGH it).
The entire Standard Galactic Alphabet is hidden in the Blooglab Space Station.
You should feel no remorse for wasting a Blooglet. They like to hang on to their corresponding Gem Key Color.
Like in Commander Keen 5, you can stand on top of the Sentry Guns (just watch out for their shots).
If you can get Nospike to charge off a cliff, he'll fall to his death. It's almost too easy!
Watch out for a little tip of a tongue, it's a Ceilick hidden up in the rafters! If you find yourself underneath one, shoot up immediately (any later, and you'll be dead already).
Jump up as a Blooguard swings his club in the air, you won't be stunned by the shock wave.
Some levels have areas with a red flashing hand sign. This indicates a dangerous area that isn't necessary to enter to complete the level.
If you use the Warp Cheat and go to the High Score screen, you get the message: Keen is in the High Score screen. Call Id! What could this mean? Who knows?
This game is quite hard! Patience and ingenuity is the key.
Don't be BLUE. The KEY to success in the Bloog Control Center is to FALL in love with Molly because she's DROP-dead gorgeous. Rescue her quickly, before she DECENDS to the stomach of a Bloog (it seems I'm beating around the bush here).
Read the signs!
The Ending

"Gee, thanks Billy," said Molly. "Boy, my brother is gonna get in trouble for this."

"Your brother?" Keen asked. Molly is the older sister of his former nemesis, Mortimer McMire. But he was caught in the explosion of his Mangling Machine...wasn't he? Could he be alive? "But he's. he's."

"He's in trouble is what he is. He told the Bloogs to take me hostage. In exchange, he told them where to find the Stupendous Sandwich of Chungella IV."

"Yeah, I've seen it," Keen said. So, Mortimer's back eh? thought Keen. "Where IS Mortimer?"

"Oh," said Molly. "He said something about blowing up the entire universe or something. Well, let's get back before your folks get home."

"Yeah, we'd better-THE UNIVERSE?!" Keen said. "Yikes!"
See you next time, when Commander Keen and Mortimer McMire battle for the universe!

Thanks for playing!
Download
Aliens ate my Babysitter! Manual (high resolution)
This episode isn't shareware, so you'll have to Buy It!
Screenshots