Commander Keen 5 Letter




You will see this letter when you finish Keen #5!









DEAR BILLY

YOU FELL FOR MY ANDROID

MACHINE AND NOW YOUVE FALLEN

FOR IT AGAIN

IM BLOWING UP THE UNIVERSE NOT

THE STUPID GALAXY

THIS WAS JUST A BIG DISTRACTION

DODO

TAG YOURE IT

MORTIMER

PS GANNALECH IS HOW THESE DUMB

SHIKADI PRONOUNCE GRAND

INTELLECT

OR DIDNT YOU NOTICE THAT MISTER

THREE FOURTEEN




By the way, noticed the black helmet?

---

This is my Keen Alfabet:





A translation: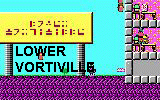 It's fun to make your own Keen-screens: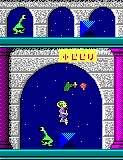 Use the SGA true type font to write letters or mail! It's fun!

DOWNLOAD SGA.TTF HERE

Use PKUNZIP to unpack this file.(you can find this program on

the missing link page)

---

(c) G.B. Post. 1997




Thanks for visiting my Keen 5 letter-page...




Back to TimesSquare Home Page

---
This page hosted by

Get your own Free Home Page

---